Jump to: Adult Pull-Up Underwear Adult Tabbed Brief Incontinence Pads for Women Incontinence Guards for Men Unisex Booster Pads (Diaper Inserts) Incontinence Underpads
---
Adult diaper users face an almost endless number of options when searching for a product. Fancy marketing language can make any adult diaper, no matter its actual performance or quality, seem like the next best product on the market.
Here at Parentgiving, we carry around 300 brands and more than 7,500 caregiving and elder products that include adult diapers. We've received honest reviews over the years for some of the most popular adult diapers from thousands of customers with caregiving responsibilities or varying levels of incontinence.
The size of our catalog, the number of customers we've served, and our deep knowledge of how these products are made allow us to make spot-on recommendations the first time.
This resource pairs our decades of product expertise with the firsthand experience of our customers. You'll come away with enough information to make an informed decision when purchasing your next adult diaper.
In this guide, you will find:
How We Test & Select Adult Diapers
The Anatomy of a Premium Adult Diaper
Our Top Adult Diaper Picks
Premium Incontinence Products vs Mass Produced
Top 3 Myths About Adult Diapers
Why Adult Diaper Fit Matters
Our Top Pick for Adult Diapers
Our top pick for adult diapers, Dry Direct Ultimate Protective Underwear provides better absorbency, leak protection, odor control, breathability, and comfort than competitors. Highly rated and affordable, these incontinence underwear are perfect for both Overnight use and extended wear of up to 10 hours.
Top Pick
Comfortable, odor controlling, extremely protective, and breathable. It's so comfortable in fact, that it can be used for extended daily wear. With a tailored fit and soft leg cuts, this disposable underwear is a best bet for value and quality—especially with high test marks for Total Absorption and Retention Capacity Under Pressure.
Performance
2,250 g / 79 Oz
Total absorption capacity ISO 11948-1
1145 g / 40 Oz
Centrifuge Liquid Retention Capacity
18,1 sec
Rate of Acquisition
The Runner Up Top Adult Diaper
Our second choice for best adult diaper, Tranquility Premium OverNight Absorbent Underwear features a super-absorbent design that's also remarkably comfortable for overnight wearers thanks to breathable fabric and a full-rise waist panel. It also comes in a wide variety of sizes ranging from XS to XXL.
Runner Up
Offer a comfortable overnight experience that will keep skin dry. Able to hold over a quart of liquid, they also provide odor control and urine pH neutralization. With an excellent Retention Capacity Under Pressure test score, these underwear ensure that even the most active sleeper won't wake up to an accident.
Performance
1,875 g / 66 Oz
Total absorption capacity ISO 11948-1
805 g / 28 Oz
Centrifuge Liquid Retention Capacity
23,4 sec
Rate of Acquisition
How We Review & Choose Adult Diapers
We've had the good fortune of serving over 200,000 customers since we first opened our doors in 2008. That's over 50,000 hours of customer service! Even better, our caregiving team is made up of actual caregivers, and our product team tours adult diaper manufacturing facilities quarterly so that we can stay on top of trends, improvements, and technology.
This level of experience and expertise informs our recommendations. It allows us to focus on what matters to our customers—not just what product labels say.
---
Our Adult Diaper Selection Criteria
When identifying a great incontinence product, we consider 3 criteria:
1. Popularity
There's a reason a particular brand or style of adult diaper gets purchased more often and with greater regularity than other brands or styles: It works. Repeat purchases often indicate a good product that satisfies users and caregivers.
2. Ratings
Assessing actual product reviews from real customers allows us real-world insight into different incontinence products. Ratings grant us a type of information that can't be gathered from sales data or laboratory data alone because they relate directly to users' experience.
3. Lab Testing
Certified lab results provide information about absorbency and other important performance points. All incontinence products use lab testing, but not all lab testing is equal. We adhere to and follow strict guidelines and best practices in all our lab testing.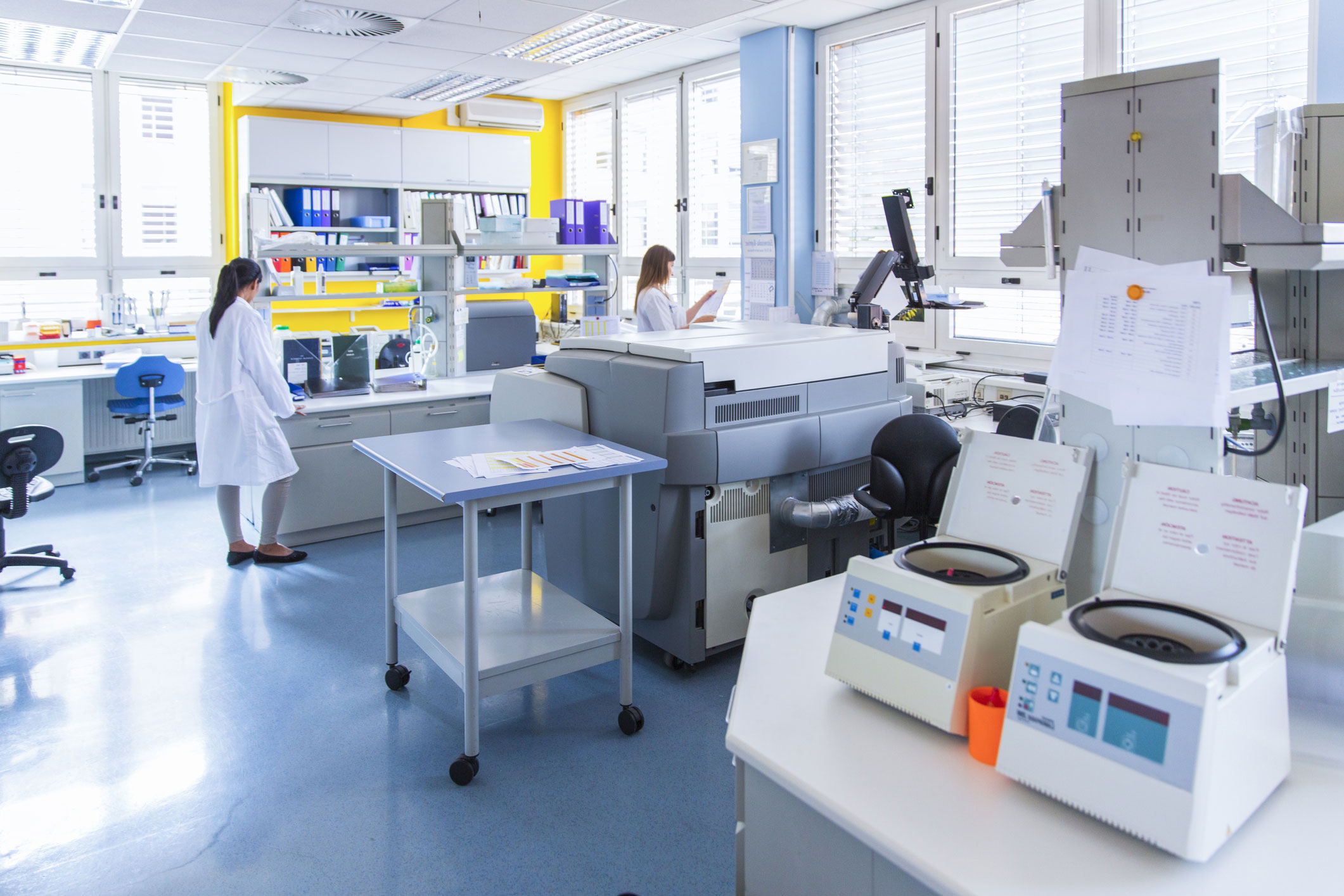 Lab Testing Criteria for Adult Diapers
Lab testing is crucial when it comes to creating and/or finding a great incontinence product. At Parentgiving, we follow test methods recommended by the National Association of Continence (NAFC) and EDANA, a global association of businesses working along the nonwovens—"innovative, high-tech, engineered fabrics made from fibers"—and related industries' supply chains.
In addition, we have worked closely with SGS-IPS, a globally recognized testing organization specializing in paper, nonwovens, packaging, and consumer products industries.
Here are our testing categories:
1. Retention Capacity Under Pressure
This category refers to how much liquid can be retained in the absorbent core of an incontinence garment as pressure is applied in a centrifuge. The centrifuge emulates real-world user experience by mimicking the pressures incontinence garments come under from variables like body weight and body positioning to assess where leaks might occur adequately.
2. Rate of Acquisition (ROA)
Also called the Rate of Absorption, this category refers to how quickly and efficiently liquid is absorbed into a garment. For this category, the lower the number, the better the rate of acquisition. Why is Rate of Acquisition important? The faster liquid is absorbed, the less time skin is in contact with wetness, reducing skin irritation risks. Quick absorption also reduces the chance of leaks.
3. Rewet Rate
The Rewet Rate measures an incontinence garment's ability to "dry" between incontinent episodes without changes. It measures how quickly the surface of a garment once again feels dry to the touch after an episode. Again, the lower the number in this category, the better the product.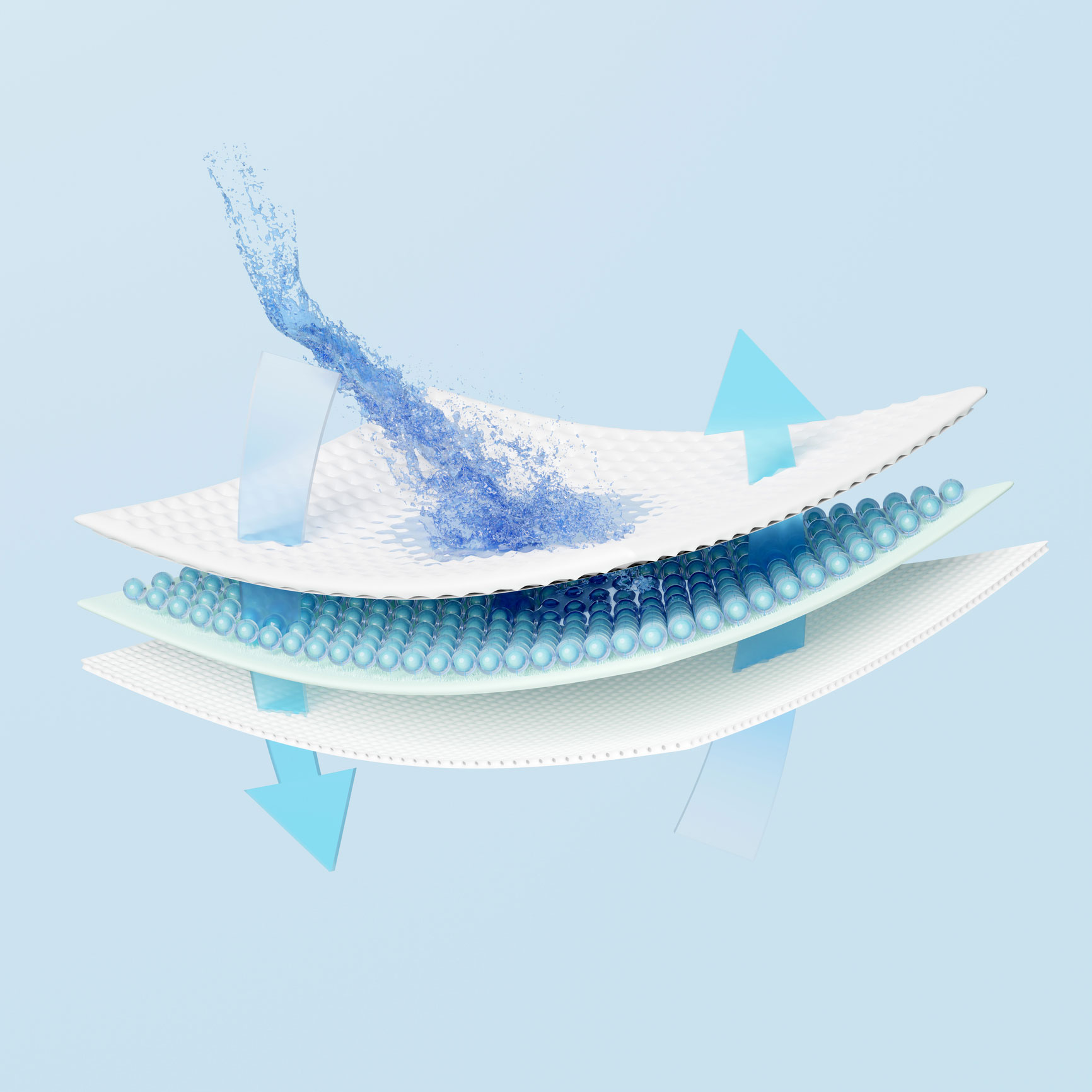 How We Test
The Limitations of Total Absorption Capacity
When it comes to incontinence products, not all metrics are equal—or sufficient. For example, the most common way adult diapers are marketed is in relation to their Total Absorption Capacity, which is the amount of liquid a product can absorb. While useful information, judging a product based on Total Capacity alone is sorely lacking, because the metric has nothing to do with the pressures and realities of real-world use.
In order to more thoroughly test incontinence garments and products, we rely on a variety of industry standard tests that put adult diapers into contexts that mimic actual use by real human beings to see how they hold up. We also conduct our tests through through third-party labs in both Europe and here in the United States, to ensure independent and unbiased test results. The lab conducted testing on approximately 40 different incontinence products over the last 3 years, and updating results on new and improved products, according to the following criteria:
Testing Retention Capacity Under Pressure
The protocols followed in this test meet SGS-IPS standard WSP 70.10, the Centrifugal Liquid Retention Capacity Test (Dry Weight vs. Wet Spun Weight). To test each garment's Retention Capacity Under Pressure, the lab team dunks each garment in water. The garment is then placed in a centrifuge. As the centrifuge spins, it removes liquid from the garment – upon completion of the centrifuge cycle, the product is then weighed with remnant liquid trapped in the core (the working portion of any diaper). The more water trapped in the core equates to greater absorbency and performance.
Additionally, the test measures whether or not the liquid that makes it into the absorbent core is "locked in" or not. When moisture is locked in, it not only reduces leaks and protects skin but also controls urine smell.
The test doesn't just look at the core, however. It also measures liquid retention in the top sheet—which is the layer closest to the skin—and how well the leak guards perform. These raised barriers at the edge of incontinent garments force liquids back into the absorbent core to control leaks and contribute to better absorption. Without a doubt, higher quality materials and construction yield better Retention Capacity Under Pressure test scores.
TLDR: The Centrifugal Retention Capacity Under Pressure Test measures how much liquid an incontinence garment can absorb and "lock in" to its core. It also measures how effective the leak guards are and how well the material closest to the skin absorbs liquid to prevent chafing.
Testing Rate of Acquisition
Testing the Rate of Acquisition (ROA) follows the protocols set forth in SGS-IPS standard NWSP 70.9/IPS-T022, the Rate of Acquisition Test, and NWSP 570.9/IPS-T022. This test aims to measure the speed at which an incontinence product absorbs liquid, as well as the product's ability to retain that liquid. To do this, a .9% saline solution is added at a prescribed rate to the garment. The length of time it takes for all of the liquid to penetrate it is then measured. Repeat doses are added, and the length of time it takes for each of these doses to penetrate the garment fully are also measured.
The lower the score, the better and faster the incontinence garment absorbs and retains liquid.
TLDR: The Rate of Acquisition Test measures how fast an incontinence product absorbs liquid and how well the product retains the absorbed liquid.
Testing the Rewet Rate
Testing the Rewet Rate is also defined in SGS-ISP standard NWSP 70.9/IPS-T022. Following the test for ROA, researchers place pre-weighed filter paper on top of the incontinence product that has already absorbed the .9% saline solution in the test described above. Next, a predefined and known weight meant to mimic body weight is carefully applied on top of the filter paper and the product being tested. After a predetermined amount of time, the filter paper is measured to determine the amount of liquid it has taken up. As is the case with the Rate of Acquisition, the lower the Rewet Rate score, the better the product.
A lower rewet rate usually correlates to a drier feel over the duration of wear time.
TLDR: The Rewet Rate Test measures how much liquid an incontinence product can absorb across multiple wetting incidents.
---
The Anatomy of an Adult Diaper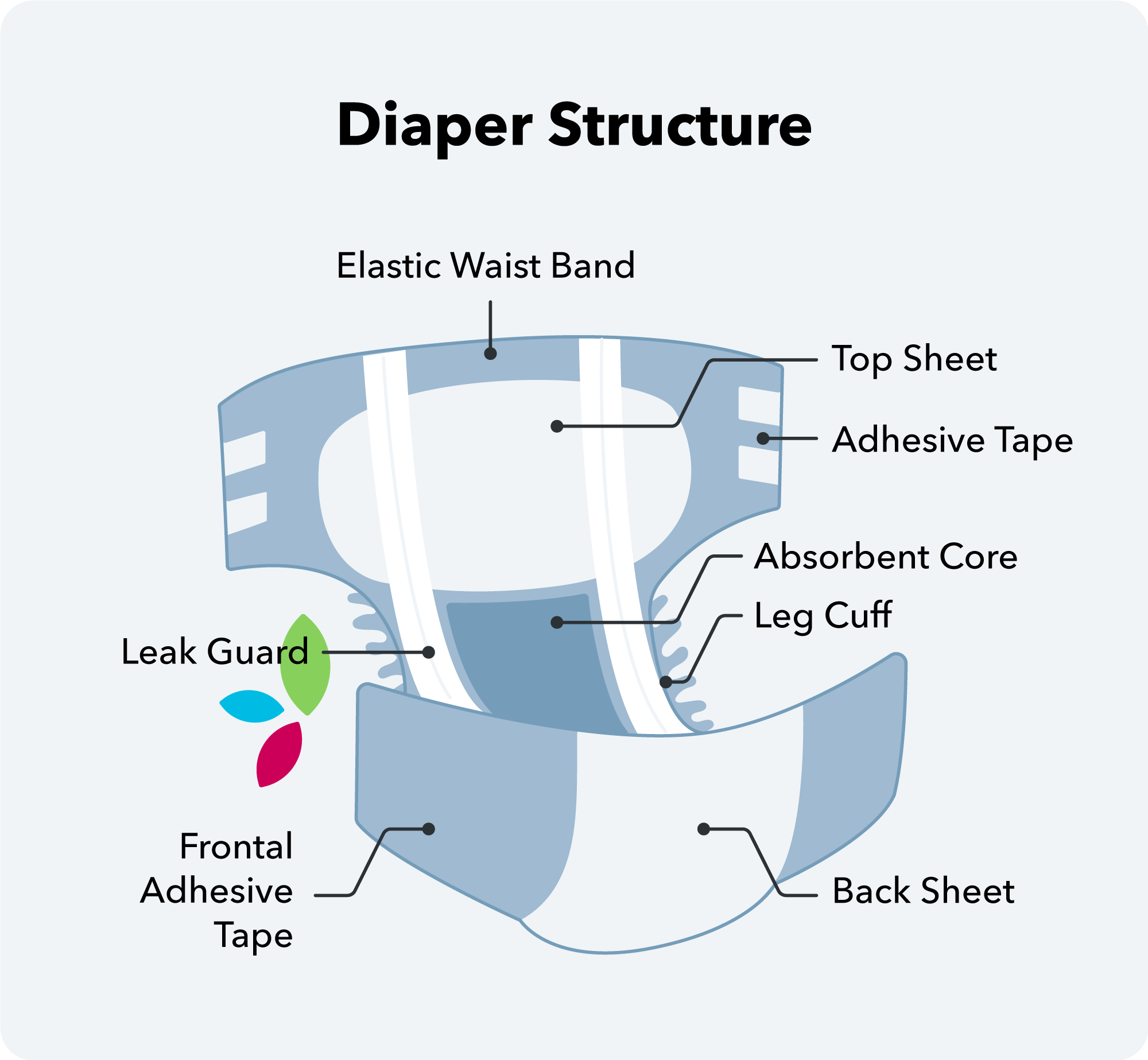 Understanding the anatomy of an adult diaper can help in making the right selection for yourself or someone in your care. While all adult diapers share this basic anatomy, it's important to remember that construction, material types, material quality, and other considerations affect performance.
Here are the components of a contemporary adult diaper or incontinence garment, as well as some considerations to remember when searching for a high-quality product.
The Top Sheet
An adult diaper's top sheet is the first point of contact for any liquid. All top sheets are hydrophilic, which allows liquids to pass easily into the absorbent core. In addition to this quality, a good top sheet should also be resistant to breakdown so that none of the inner absorbent material is able to push out through the top sheet. In the best quality incontinence garments, the top sheet is exceptionally soft for more comfortable wear during extended wear times.
Acquisition Distribution Layer (ADL)
The ADL sits between the top sheet and the absorbent core. It assists in directing liquid toward the core and in distribution across the entire core area to maximize absorption and retention. It also acts as a liquid storage area until liquid is fully absorbed by the core, and it can also function as a barrier to protect against rewet.
The Absorbent Core
The absorbent core is the working part of any adult diaper. It's where liquid is directed, absorbed, and retained.
What separates a great absorbent core from a cheap one? A lot.
Material Composition – Superabsorbent Polymers (SAP) vs. Fluff
Every core is made up of a combination of SAP—materials that can absorb up to 300 times their weight in fluid without subsequently releasing it, forming a gel—and Fluff—usually cellulose fibers. The Fluff provides softness, helps diffuse liquid throughout the core, and helps speed the Rate of Acquisition. The SAP provides absorption and retention, provides a feeling of dryness, and is space-saving, ensuring a less bulky product. It also assists in odor absorption.
The right balance of SAP and Fluff is essential in an incontinence garment, or channel blockages can occur. Too much SAP will yield a bulky and uncomfortable core. Too much Fluff means lower absorption and retention.
Construction
Great materials and design are only as good as the construction of the finished product. New and properly maintained machinery, as well as skilled operators and quality control, are essential in properly constructing products.
How does poor construction affect users? Whether it's poor closure tape construction, too much or too little glue, or missing side anti-leak barriers, bad construction, and design can result in embarrassing leaks, lack of confidence, and unnecessary difficulty for users and caregivers alike.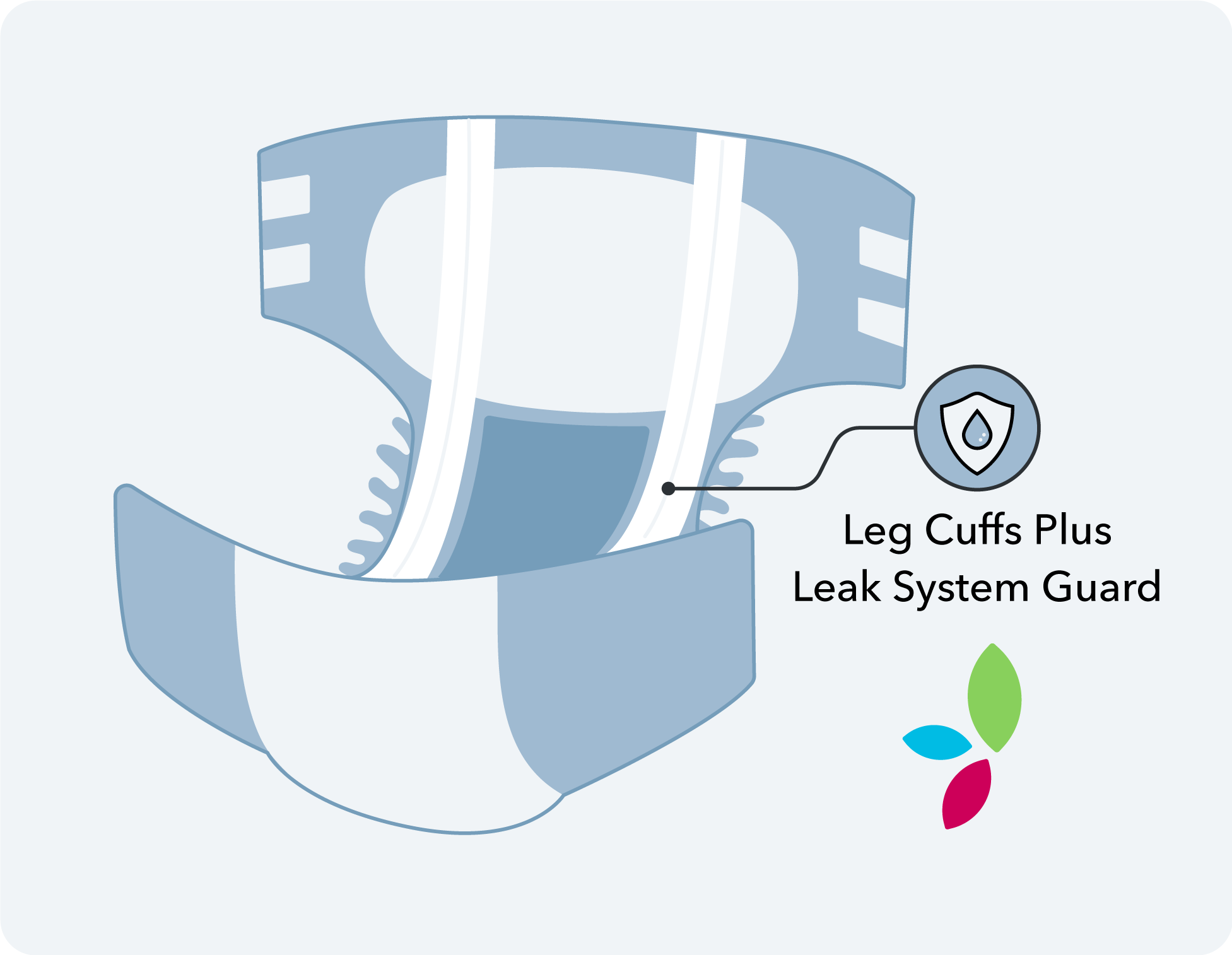 Leak Guards
Leak guards are the elastic ruffles around the legs that force urine back up and into the core, and not all adult diapers have them. This feature—the absence of leak guards—is a telling distinction that separates great incontinence products from average and sub-par ones. Still, not all leak guards are of the same quality.
A high-quality leak guard will be made from excellent hydrophobic, nonwoven material. It should provide a high barrier and should not stick to the top sheet when the product is opened. Leak guards should also demonstrate good elastication that can follow the shape and movement of the body, including when the wearer is sitting still or lying down.
Breathability
Breathability is a quality that defines an adult diaper's capabilities to allow perspiration to pass through materials so that skin can "breathe" better. Achieving good breathability is complex because backsheets must hold moisture in, while still allowing air to pass in and out of the garment as a whole. The best adult diapers utilize materials and construction methods that prioritize breathability.
Welded Seams, Waistbands, and Side Panels
Welded seams, waistbands, and side panels constitute much of the rest of an adult diaper, and their construction and composition affect everything from the garment's performance and the wearer's comfort to caregivers' experience in changing them. Choosing an incontinence product that uses excellent materials, as well as ultrasonic seam welding (as opposed to thermical welding) will ensure the product works as intended.
Composition: Nonwovens
Nonwovens are—outside of the absorbent core—the primary reason any adult diaper works as intended. Made of natural or synthetic fibers that have been bonded together chemically, thermally, or mechanically rather than woven, they can be made up of a single layer or multiple layers of the same or different materials. They are used in a diverse range of industries that include cars and clothing. In incontinence products, the topsheet, backsheet or barrier, side panels, and more are all made out of nonwoven material that is polypropylene-based or polymer-based.
---
Our Top Adult Diaper Picks
Best Protective Underwear
Protective underwear is a category of incontinence products best suited for individuals whose protection needs are minimal and who do not need much assistance in dressing, changing, or toileting. These products look and mimic regular underwear, so they can be worn under almost any type of regular clothing—including athletic wear and other form-fitting wear—without appearing conspicuous. For individuals with new or inconsistent incontinence issues, protective underwear are an ideal product to try.
Product Comparison Table
| Product Name | Manufacturer | Centrifuge Liquid Retention Capacity | Rate of Acquisition | Rewet | Product rating |
| --- | --- | --- | --- | --- | --- |
| | Santex / Parentgiving | 40 Oz | 18.1 sec | 0.047 g | 4.5 Stars (1471 reviews) |
| | Santex / Parentgiving | 23 Oz | 20.7 sec | 0.055 g | 5 Stars (150 reviews) |
| | Principle Business Enterprise | 28 Oz | 23.4 sec | 0.05 g | 4.5 Stars (21 reviews) |
| | LiveDo USA | 38 Oz | 18 sec | 0.088 g | 4.5 Stars (362 reviews) |
| | ESSITY | 21 Oz | 20.2 sec | 0.079 g | 4.5 Stars (77 reviews) |
| | Santex / Parentgiving | 15 Oz | 24.5 sec | 0.140 g | 4.5 Stars (9 reviews) |
| | Principle Business Enterprise | 18 Oz | 22.4 sec | 0.072 g | 4.1 Stars (21 reviews) |
| | Kimberly Clark | 19 Oz | 20.8 sec | 0.213 g | 4.2 Stars (5 reviews) |
| | Kimberly Clark | 19 Oz | 20.3 sec | 0.344 g | 4.2 Stars (15 reviews) |
Best Buy - Value & Quality:
A best buy for both value and quality, offering excellent lie-down protection and dryness without feeling bulky. While some protective underwear can boast more Total Absorption Capacity, its Retention Capacity Under Pressure and Rate of Acquisition are among the very best.
Performance
1,550 g / 55 Oz
Total absorption capacity ISO 11948-1
589 g / 21 Oz
Centrifuge Liquid Retention Capacity
20,2 sec
Rate of Acquisition
Another great choice. It features a low-profile silhouette, reliable leak guards, and natural-feeling breathability for excellent comfort and confidence. It offers plenty of Total Absorption Capacity for daytime wear and is one of the lightest products on the market, so it really feels like regular underwear.
Performance
1,400 g / 49 Oz
Total absorption capacity ISO 11948-1
421 g / 15 Oz
Centrifuge Liquid Retention Capacity
24,5 sec
Rate of Acquisition
If absorption is your primary concern in an affordable and high-quality overnight or extended wear adult diaper, then look no further than Dry Direct Super Overnight Underwear. Our highest reviewed product, it performs well on Total Absorption Capacity and has one of the best Rewet Rates across all tested products
Performance
1,700 g / 60 Oz
Total absorption capacity ISO 11948-1
645 g / 23 Oz
Centrifuge Liquid Retention Capacity
20,7 sec
Rate of Acquisition
Rate of Acquisition Test
Centrifuge Liquid Retention Capacity
Rewet Test
Daytime
Unique Wellness Absorbent Underwear works best for incontinence product users in need of industry-high scores in tests for Total Absorption Capacity and Retention Capacity Under Pressure. While other daytime adult underwear may feel more natural, these pull ons feature NASA technology that offers unbeatable protection.
Performance
2,315 g / 82 Oz
Total absorption capacity ISO 11948-1
1081 g / 38 Oz
Centrifuge Liquid Retention Capacity
18 sec
Rate of Acquisition
Best Adult Diaper Briefs
Adult Diaper Briefs are recommended for individuals who have limited mobility or who need the assistance of a caregiver in changing. They're also a great product for anyone in bed for an extended period of time or for anyone who might need their diaper adjusted over time. Briefs are not as inconspicuous as Protective Underwear, but they offer considerably more protection for individuals in need of that.
Rate of Acquisition Test
Centrifuge Liquid Retention Capacity
Rewet Test
Best Gender-Specific Adult Diapers
Gender-Specific Adult Diapers are designed and constructed to better suit different anatomy. Where wetness originates—and where it might leak—aren't the same in everyone. Gender-Specific Adult Diapers address these differences by making use of gender-guided design.
Pads & Guards for Men:
Seni Man Fit Guards work well for active wearers, who also need plenty of absorbency. A breathable outer layer keeps skin healthy and dry.
---
Tena for Men Protective Guards offer all-day protection for light to moderate leakage. Soft against skin and quiet, even the wearer might forget they're there.
---
Tranquility Male Guards provide excellent leak control, plus odor protection. Excellent adhesive allows wearers to use them under tight-fitting underwear.
---
Best Mens Adult Underwear:
Depend for Men Fit-Flex Maximum Absorbency Underwear fit and feel like regular underwear. Wearers in need of all-day protection and odor control can feel comfortable and confident in these absorbent underwear.
---
Designed for wearers with moderate to heavy absorption needs, Tena For Men Underwear offer fast and reliable absorption with pH-balanced odor control. The contemporary design looks and feels like regular underwear, too.
---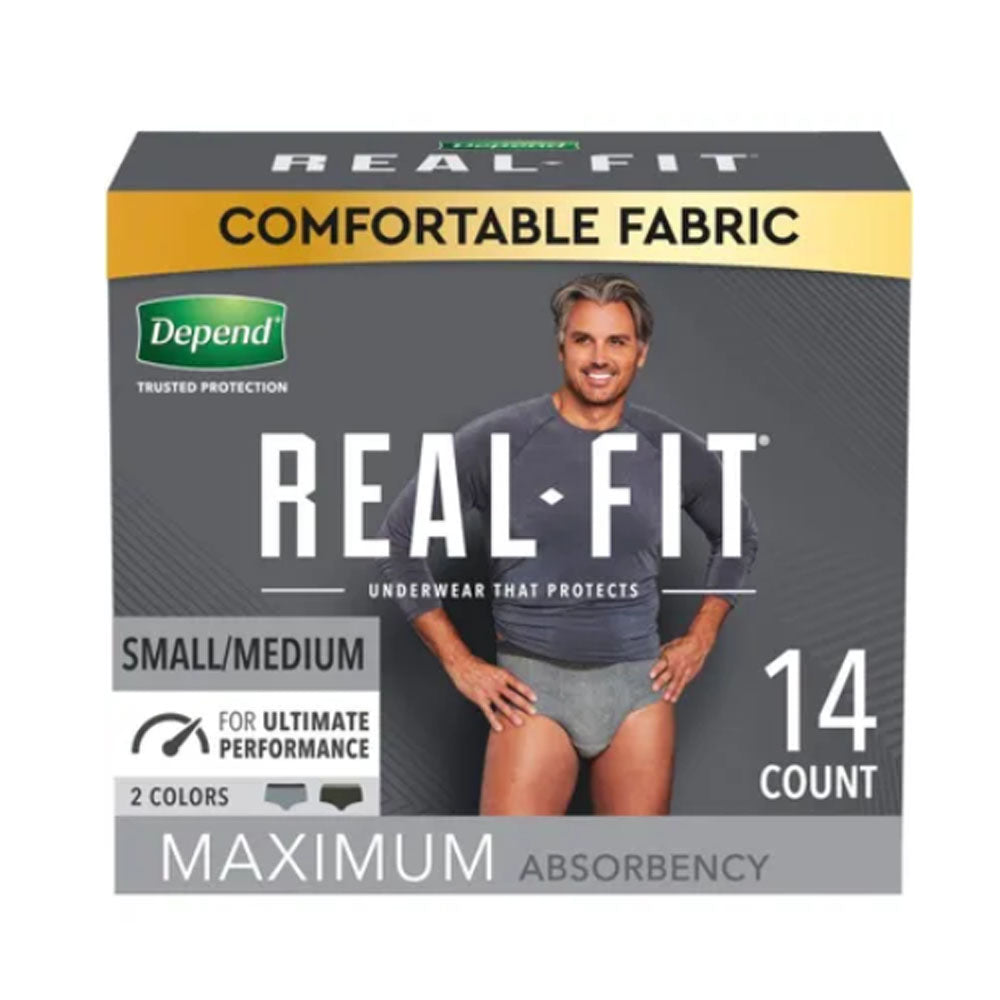 Depend Real Fit Underwear For Men come in multi-color packs that feature cloth-like comfort and all-around leg elastics for maximum protection. With odor control and maximum absorbency, wearers can feel confident and discrete.
---
Best Women Adult Underwear:
Depend Fit Flex For Women are soft and stretchable and pull up and down just like regular underwear. They offer maximum absorbency and odor control, with elastic leg openings for comfort and added protection.
---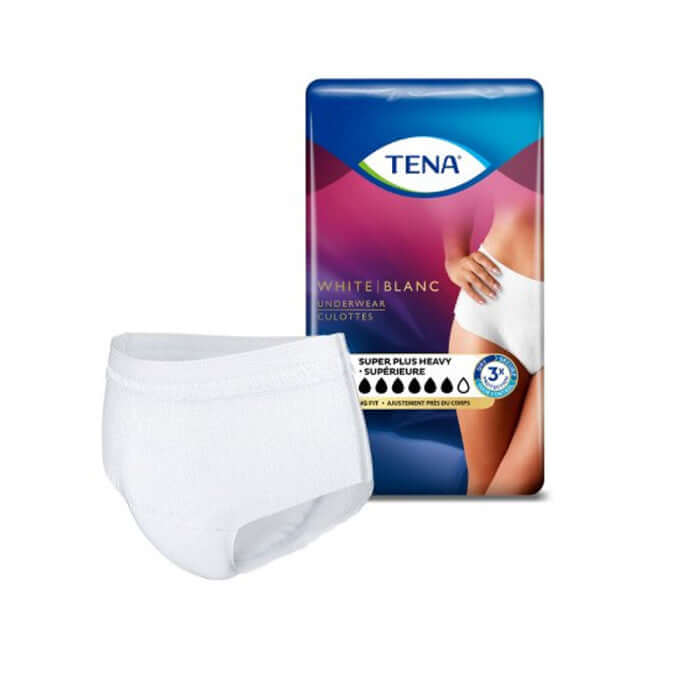 Tena Super Plus Underwear For Women are stylish, soft, and super absorbent. They offer a snug fit that moves with the wearer and excellent odor control for all-day confidence.
---
Prevail Underwear For Women provide maximum absorption throughout the day and night without discomfort or concern over odors. The secure and comfortable fit is also breathable and moisture-wicking to help keep skin dry.
---
Understanding Premium Incontinence Products vs Mass Produced
As this guide has already made clear, an incontinence product's effectiveness and quality can vary widely. Most people start out with a mass-produced product, like Depends or Tena. While these products may serve the needs of some, a premium incontinence product is a better fit for many users and caregivers.
What does a premium incontinence product offer that a mass produced one cannot? Plenty. Premium products—because they use higher quality material, feature better design, and utilize better construction methods—perform better than mass produced products in a number of important areas, including:
Smell
Top sheet performance and comfort
Fabric quality, durability, and feel
Tear-away side stability and function
Leg cuff quality and dependability
Discreteness
Comfort
And more
Adult Diaper Absorbency
| Absorbency Level | Mass Market Brands | Premium Brands |
| --- | --- | --- |
| Moderate | 2 - 6 oz | 5 - 12 oz |
| Heavy | 6 - 9 oz | 12 - 18 oz |
| Overnight | 12 oz | 20+ oz |
-For moderate absorbency needs, premium diapers absorb about 2-6 oz more than mass market brands.
Top 3 Myths About Adult Diapers
1. The Double Up Works
Because many people's first experience with an adult diaper is with a lower quality, mass-produced product, they often feel like doubling up will solve problems related to leaks and scent. Unfortunately, the double up rarely—if ever—works.
Besides being a waste of product and money, doubling up a diaper is not a dignified way for an individual to handle incontinence. Instead, try another approach. Research what garments might better address your concerns. Try a higher quality product, or try changing the product you are using more often. Whatever the problem, doubling up is unlikely to solve it.
2. Plastic Outer Garments are Best
It can be tempting to believe that a plastic outer garment is the best choice in controlling leaks, but for true comfort and protection, an incontinence product must be breathable. Plastic garments also tend to be noisier, lending themselves to uncomfortable situations.
No, choosing an incontinence garment that is breathable, silent, and constructed of high-quality materials will ensure better protection and comfort. Many of them also feel more like regular underwear—something a plastic outer garment cannot achieve.
3. Any Secondary Diaper Product Will Do
There are a number of secondary products and accessories available for users that can adapt and improve the performance of an adult diaper. Not all products work for all indications, however.
For example, putting a bladder control pad inside an adult diaper will not improve or extend absorption or retention. It may even reduce the quality of the fit and lead to leaks. To boost a diaper's absorption and retention, a booster pad is recommended.
So do your homework. There are a lot of excellent adult diaper accessories available, but using them correctly is key to your satisfaction.
How is an Adult Diaper Supposed to Fit?
How an adult diaper fits is central to user and caregiver satisfaction. But a good fit can be hard to achieve. Not only do product sizes vary between brands, but some brands' sizing focuses on waist measurement in inches, while others use weight in pounds. Because of this, if a product you're considering offers samples, try one before purchasing a pack.
Regardless, the right-sized adult diaper is comfortable and avoids leakage. It should fit snugly at the waist and throughout the leg holes. When a user has a larger waist and thinner legs, gaps at the leg holes are common. To adjust this fit, use a booster pad inside the product to provide additional absorption and discourage leakage.
One problem that users and caregivers run into is assuming that a larger-sized product is a more absorbent product. This is not the case. Always select a product based on waist measurement or weight—whichever the brand uses.
Bariatric Adult Diaper Fit
When considering bariatric products, keep in mind that there are few pull-on underwear products on the market, since the ratio between the waist and the top of the leg measurements makes producing an effective pull-on product very difficult. Tape-on products are ideal as the fit can better be controlled.
Need Help? Talk with a Caregiving Expert
Choosing the right adult diaper doesn't have to be overwhelming. Think of us here at Parentgiving as your personal concierge—not just in incontinence products, but in the entire realm of the aging process. Every single person on our customer service team has been or currently are family caregivers. We will guide you to the right products for your needs, helping you to save time, money, and frustration. Contact us today.
Click to call Customer Support Now.
x
Limited Time
50% Off
Use coupon MISMATCH50 to receive 50% off the Dry Direct Super Briefs in XL that is in the Maxi Brief packaging.
*This coupon cannot be combined with other offers or used on subscription orders. This offer is available for shipments to ME, RI, NH, CT, NJ, NY, PA, DE, VA, MD, VT and DC only. Offer ends when these incorrect packaged products sell out.